Baby Shark is "safe at last" at SEA LIFE Melbourne
Sink your teeth into a sing-a-long from 13-24 May!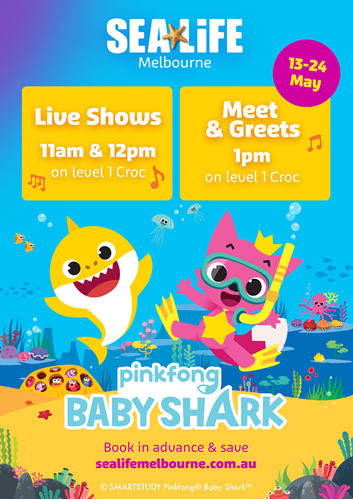 The unforgettable Baby Shark song that captivated the world will entertain families diving into SEA LIFE Melbourne  as part of a series of interactive live Mini Shows!
Kids can sing and dance along to a lively performance from Pinkfong and Baby Shark in our underwater wonderland at 11am and 12pm daily. The characters will be also available to meet kids and pose for photos at 1pm.
Baby Shark will feel right at home performing alongside extended family including SEA LIFE Melbourne's Grey Nurse Shark, Port Jackson Sharks and Blacktip Sharks!
With over 2.6 billion YouTube views, Pinkfong and Baby Shark are sure to delight children with their suite of engaging original tunes. 
What's happening? 
Mini Shows and Meet & Greets at SEA LIFE Melbourne between 13 - 24 May 
What time are the activities?
Mini Shows are at 11.00-11.30am and 12.00-12.30pm daily between 13-24 May 
Meet & Greets with Pinkfong and Baby Shark are between 1.00-1.30pm
Where are the activities?
Get in on the action at Level 1 Croc, just up the ramp from Coral Atoll, or before the Rainforest
How do I get a ticket? 
These activities are included in your general SEA LIFE Melbourne admission. We suggest you arrive early to ensure you get a seat and don't miss out on meeting your favourite characters! 
Coming soon
COLOURFUL CREATURES in partnership with Animal Plant from 8 June - 21 July
LEGO Sea Explorers dives in from 1 August – 19 September
Angry Birds flies in from 21 September – 31 October
For further information on upcoming events, please visit here.